When I first moved to Colombo from Mumbai, India, now more than three years ago, I was immediately struck by how horizontal the city seemed to be. Having lived most of my life in the populous and vertiginous commercial capital of India, Colombo's squat skyline, composed of spacious houses and vast, open spaces draped in a thick cloak of greenery, took me somewhat by surprise. Unused to the idea of a city that laid out its charm so plainly, I assumed that it would be easy to get to know the "real" Colombo. With time and experience, I have come to the humbling realization that despite its diminutive size, Colombo is several cities contained in one.
Defined by police pickets and paranoia for the better part of Sri Lanka's three-decade-long civil war, Colombo is still searching for its identity. Postwar urban development has ushered in a rush of foreign-funded infrastructure projects and a throng of international hotel chains looking to cash in on the burgeoning tourism industry. Everywhere you turn in central Colombo rambling colonial-era bungalows are being torn down to make way for plush condominiums and malls.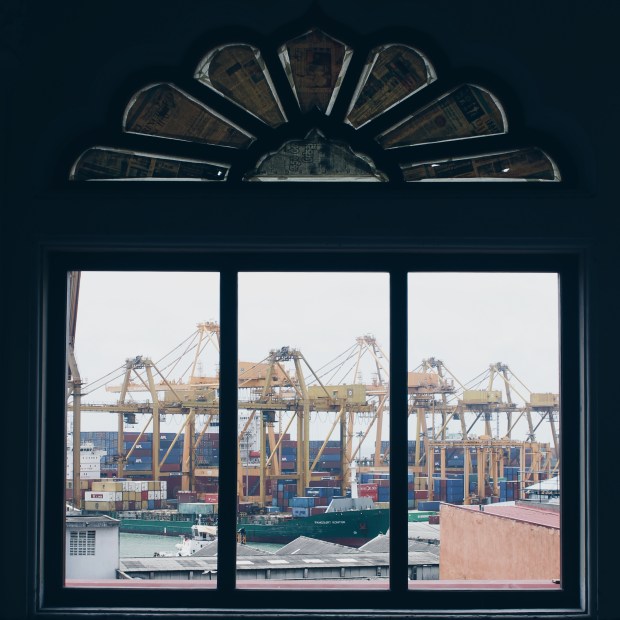 Yet, while some pockets of the city seem to be evolving at breakneck speed, others appear to be in no hurry to give up the leisurely island pace of life. In these older neighborhoods, quaint tuk-tuks, colloquially known as choon paan, still deliver bread and other baked goods every afternoon, and the fragrance of frankincense burning at Buddhist temples fills the air every evening.
Given its historical heft as a port city—and the epicenter of the erstwhile spice trade—Colombo has always been shaped by the crosswinds of change. Even as it transforms, with a touch of tentativeness, into a metropolis with global aspirations, Colombo wears its charm resolutely—provided you are committed to seeking it out. Spend a day in the city that is my adopted home and I'm sure you will be smitten.
If you find that everyone in Colombo moans about traffic, it is for good reason. The city's infamous traffic snarls are particularly frustrating during the morning rush hour, so I'd recommend getting off to an early start. In recent years it has become easier to get around the city thanks to Uber and PickMe (the Sri Lankan equivalent), which also operates tuk-tuks.
Take advantage of the pleasant morning weather by taking a stroll at the Viharamahadevi Park, a sprawling green oasis in the heart of the city, opposite the historic Town Hall. Formerly called Victoria Park, the city's oldest public park shed its slightly seedy reputation after an extensive facelift in 2013. Fringed by tall trees, the park has jogging and bicycle tracks, a children's playground, an aquarium, a small lake on which you can operate paddle boats and a suspension bridge that runs across the lake.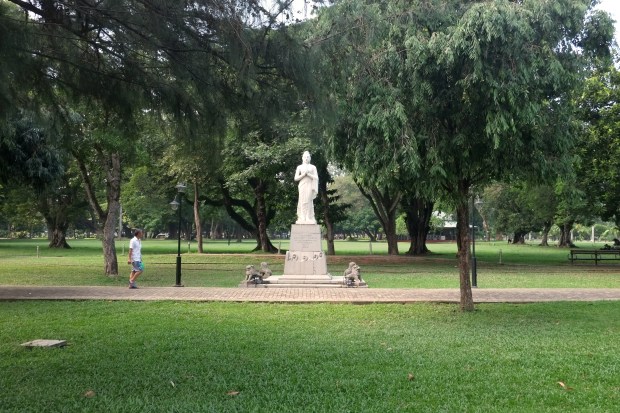 8:00
am
Upali's by Nawaloka
No. 65 C W W Kannangara Mawatha
Colombo 00700
Get Directions
Once you have soaked in some vitamin E, cross the road for nourishment. In plush Cinnamon Gardens—named after a cinnamon plantation once located in the area—Upali's by Nawaloka is one of the finest Sri Lankan restaurants in the capital and a great spot for a traditional breakfast.
Sri Lankan breakfasts are a celebration of carbs and color—don't be surprised to find an array of accompaniments for your main meal. Try the string hoppers, steamed noodle cakes made of rice flour, with pol sambol, a tangy, chutney-like side made of grated coconut. Also try parippu or dal, prepared drier and thicker than in neighboring India, a fiery chicken or fish curry, and kiri hodi, a mild, coconut milk–laden gravy to temper the burn.
10:00
am
Gangaramaya Temple
61 Sri Jinarathana Rd.
Colombo 00200
Sri Lanka
Get Directions
In a city of year-round tropical weather, the heat and humidity can get quite oppressive by midmorning. Dodge it by taking a cab or tuk-tuk to the Gangaramaya Temple, one of the city's most significant Buddhist temples, located near the scenic Beira Lake. More than 150 years old, the temple is part of a sprawling tree-shaded complex that includes a stupa, several Buddha statues (an impressive series lines the courtyard), a museum with ancient scrolls, showcases full of bizarre trinkets such as gold wristwatches donated by devotees, and even two corpulent Labradors who loll about on the cool stone floors.
Return later in the evening to the Seema Malaka, an assembly hall for the monks of the Gangaramaya Temple located on three raised, interconnected platforms in the center of Beira Lake. Far less eccentric than the main temple, the Seema Malaka bears the elegant design hallmark of Geoffrey Bawa, one of the most renowned Sri Lankan architects of the 20th century.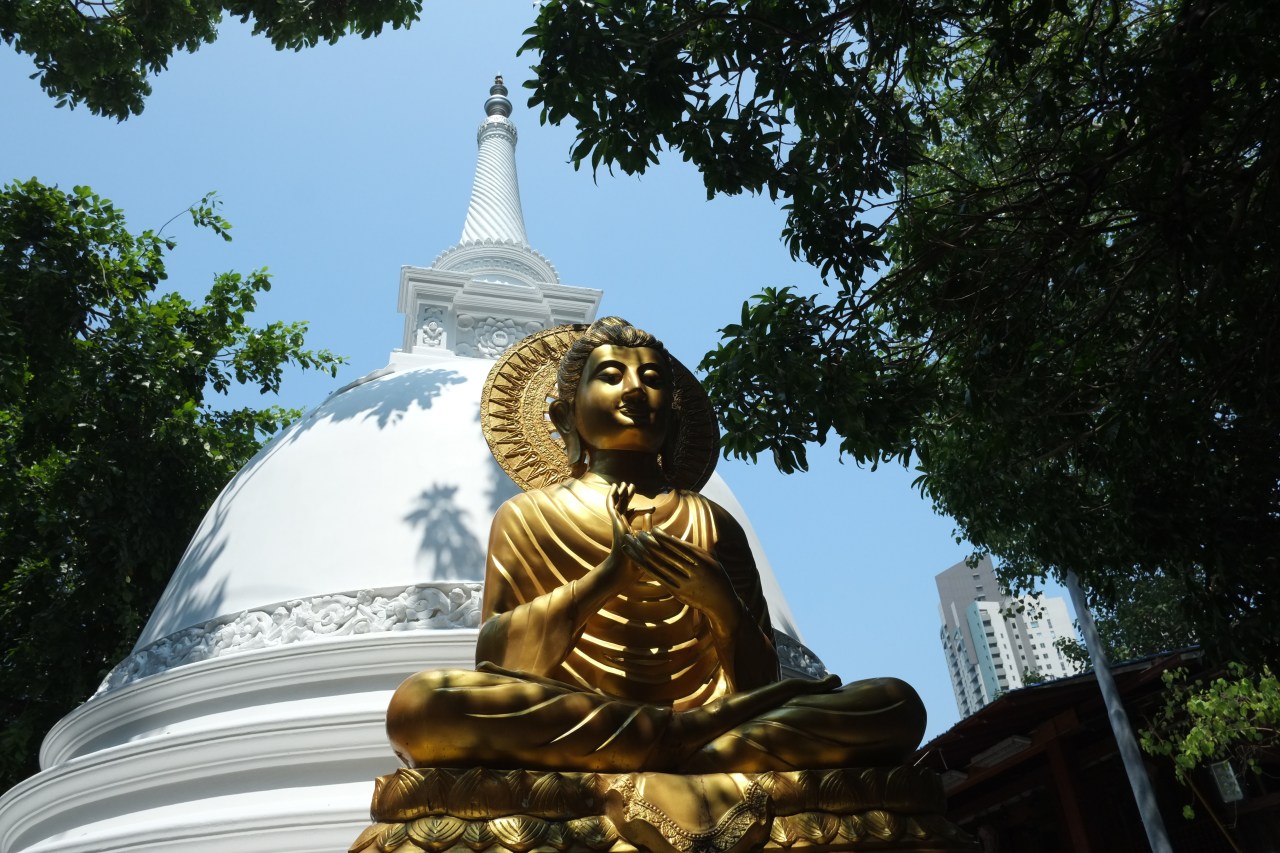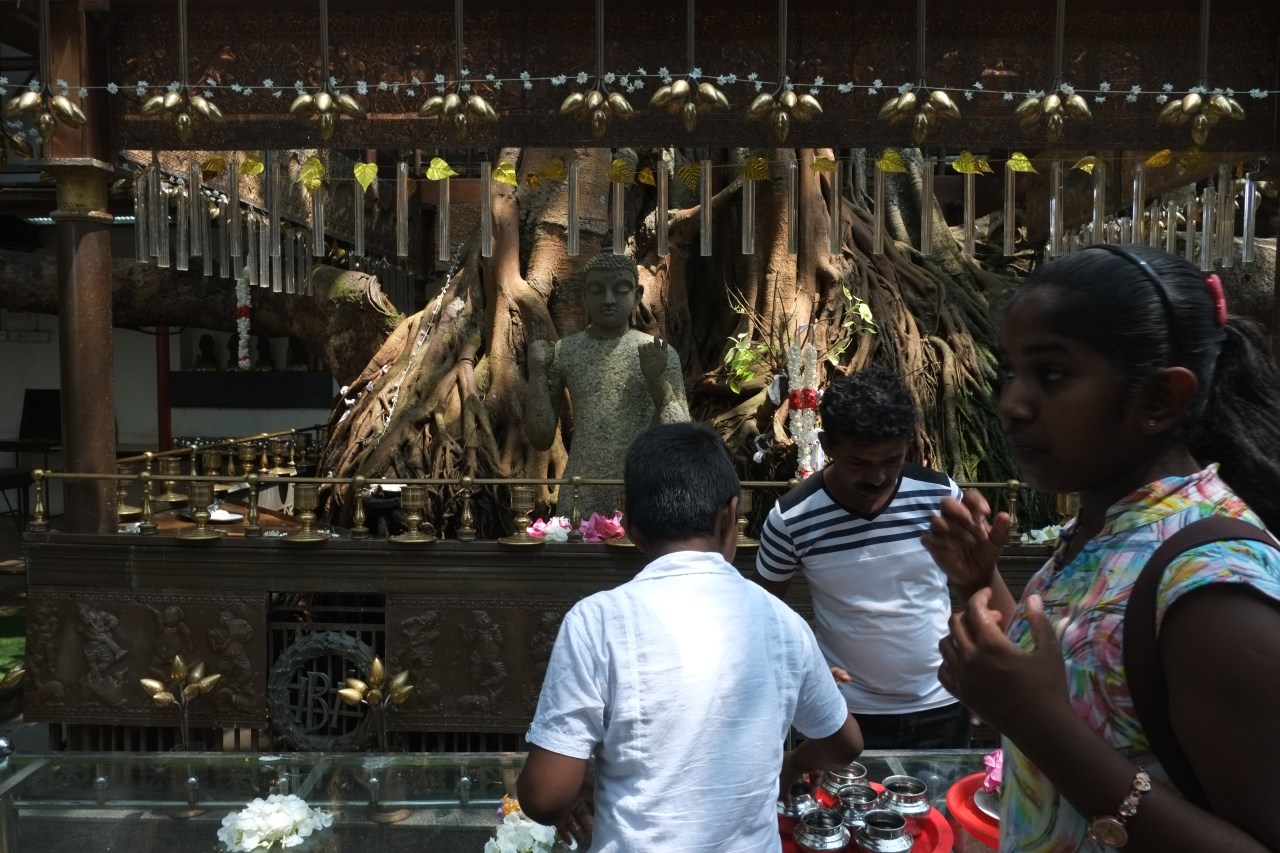 11:30
am
Good Market
14 Philip Gunawardena Mawatha
Colombo 00700
Get Directions
Make a quick pit stop at Lakpahana, a handicraft and gift store located on Reid Avenue opposite the city's recently renovated colonial-era race course. This is your one-stop shop for everything from batik sarongs and hand-loom saris to elephant souvenirs and the country's famous moonstone jewelry. Next, head to the Good Market shop, an organic and health-food store located on the same premises. The retail outlet of a marketplace that is organized at the race-course grounds every Saturday, the Good Market shop has a range of ethically produced and organically certified food products, including kithul treacle, the country's most popular natural sweetener, derived from the sap of the kithul, or foxtail palm. Rejuvenate with Ceylon Punch, a juice blend made of narang (a tart local citrus) and coconut water at Kumbuk Kitchen, a vegan and vegetarian eatery (and hipster haunt) located adjacent.
12:30
pm
VOC Cafe
Dutch Burgher Union, Thunmulla
Colombo 00500
Get Directions
Traffic reaches peak congestion around lunchtime, so head early to the VOC Cafe, located at the Dutch Burgher Union, for a leisurely meal. Constructed in 1908, the Dutch Burgher Union is dedicated to promoting the welfare of the Burghers, a small community that traces its lineage back to 17th-century Dutch colonialists. The VOC Cafe's hottest-selling item is lamprais, a rich and fragrant dish of rice, mixed meat (or chicken), and various condiments baked in a banana leaf. It's prudent to call ahead and reserve an order of lamprais, because they often sell out by noon. Also try the fragrant ghee rice, served with your choice of chicken, fish, or meat curry, accompanied by the usual array of condiments.
Shake off the postlunch slump at Barefoot, a colorful showcase of Sri Lankan hand-loom and one of the city's shopping landmarks. Located in a tastefully decorated 1920s villa, Barefoot is best known for its brightly colored hand-loom fabrics, which are used to make furnishings, upholstery, stationery, toys, and a line of designer clothes. There is a garden cafe in the courtyard, and the bookshop has an excellent selection of books by famous Sri Lankan authors such as Shyam Selvadurai and Michael Ondaatje.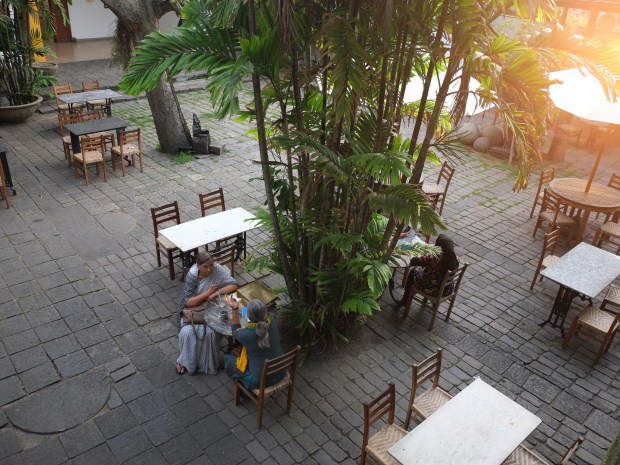 While the city has no dearth of fancy, atmospheric bars, one of my favorite spots for coffee or a drink is Tap Bar, at the historic but slightly derelict Grand Oriental Hotel, in the Fort district. Arrive early, grab a table by the window, and enjoy an unmatched view of the Colombo harbor while you take a cappuccino or a glass of smooth, locally brewed arrack. Keep it to just one drink, though; the bar acquires a seedier vibe after sundown.
Return to the Seema Malaka now that it is a tad cooler, and walk around the tastefully designed complex. Smack-dab in the center of one of Colombo's busiest districts, surrounded by frenetic construction activity on all sides, the temple complex offers a spot of serenity. Linger for a few minutes in its outer periphery, and take in this unhurried view of the city.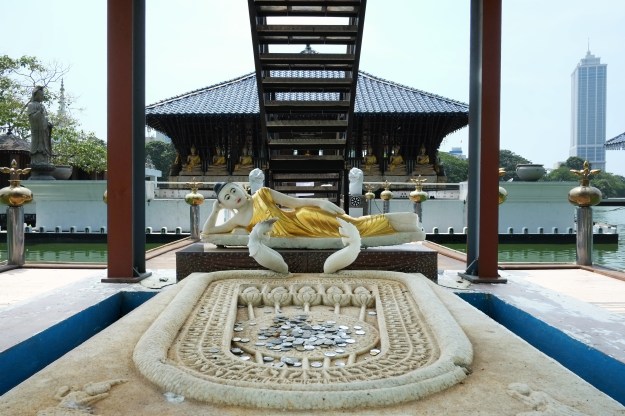 There is perhaps no better place to watch one of Sri Lanka's dramatic sunsets than at the Galle Face Green, an open park and seaside promenade that comes alive at sundown with picnicking families, courting couples, and vendors selling a variety of fried and pickled foods. If you have an iron-clad stomach, don't leave without trying an isso wade, a deep-fried, luridly orange lentil fritter topped with whole fried prawns, usually served with a spicy sauce of questionable provenance. Crunchy, spicy, and laced with a sense of adventure, isso wade is a Sri Lankan rite of passage. If you'd rather not take the chance, head to the historic Galle Face Hotel next door for cocktails at the sea-facing Traveller's Bar. Operational since 1864, the recently renovated hotel is one of the oldest properties in South Asia. At sunset a bagpiper dressed in a ceremonial kilt plays a piercing tune as he accompanies one of the hotel's employees to a narrow stretch of beach to lower the national flag. It's a startling ritual that seems bizarrely appropriate in these historic surroundings.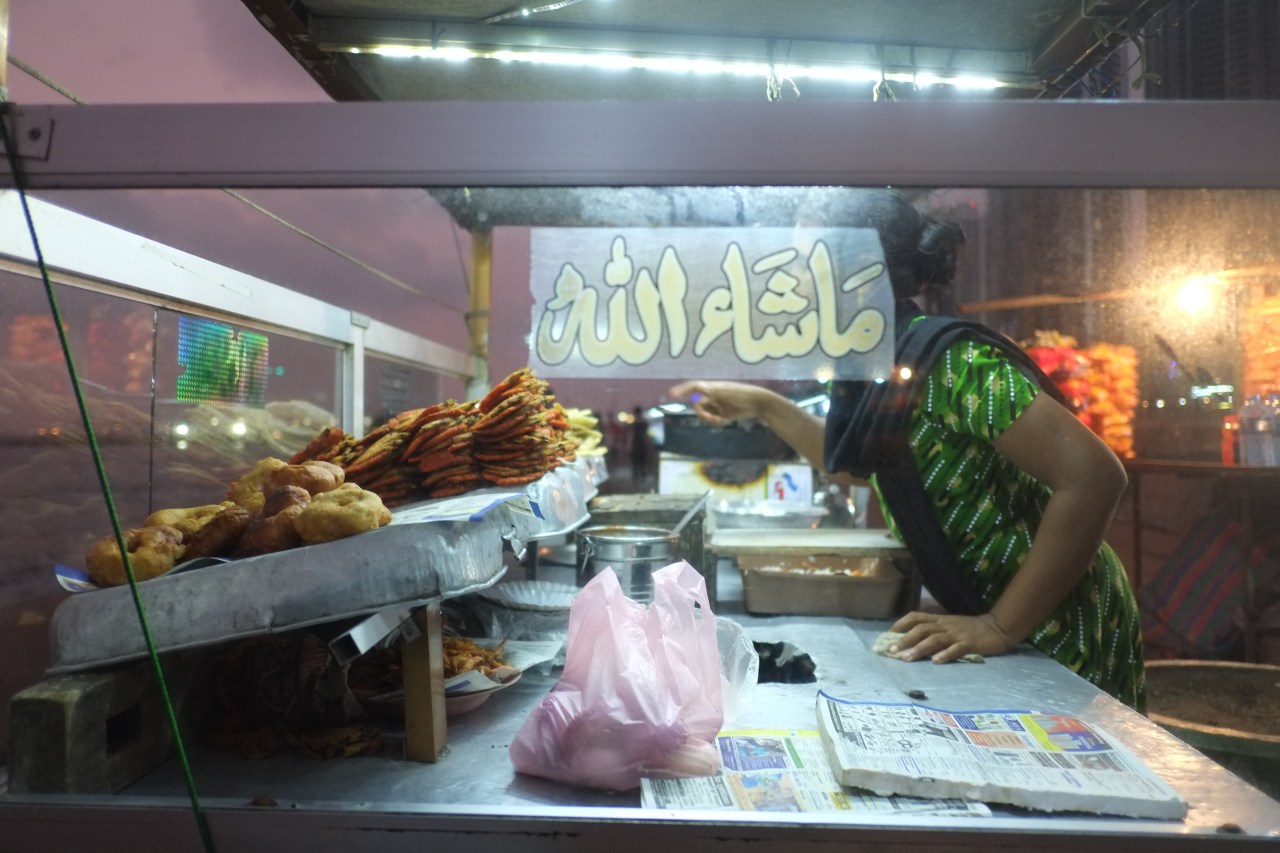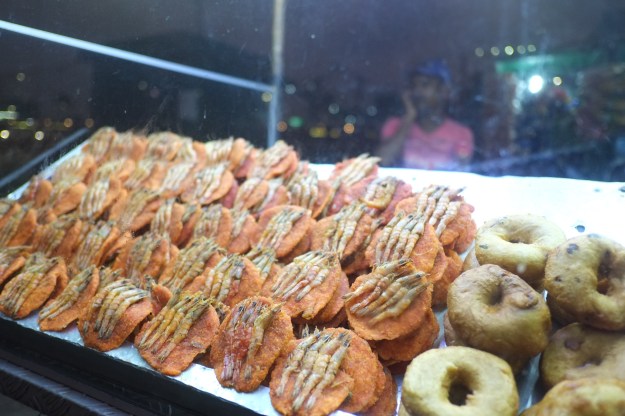 I have lost count of the number of visiting friends and family I have taken to Palmyrah, my favorite restaurant in the city, located at the Renuka Hotel. Palmyrah serves a well-executed selection of dishes from the Tamil-dominated northern part of the country. Start with a complimentary shot of rasam, a tangy lentil soup served with crunchy papadum. Then order a stack of the restaurant's signature red rice hoppers. Crunchy, lacy crepes with a spongy center and a fermented tang, hoppers are an excellent delivery vehicle for spicy Sri Lankan curries. I am partial to Palmyrah's hoppers, paired with mutton paal poriyal, a traditional preparation of boneless lamb pieces cooked with coconut milk and aromatic curry powder; kana vai pirettal, minced shrimp tossed with grated coconut and ash plantain; sambol, a tangy, fiery side made of deep-fried plantain mixed with vinegar, onions, and chili. Finish your meal with a decadent jaggery hopper, which comes submerged in a pool of sticky-sweet kithul treacle.