Every Armenian diasporan has two homes: one that recreates the ancestral land, with the spicy scent of stuffed eggplant swirling through the air, illustrious literature gracing the bookshelves, and the sounds of the ancient language flowing through each room. The other is thousands of miles away, a shell of its former glory but magnificent nonetheless, simply because of its existence against all odds.
I was 12 years old the first time I visited Armenia. It had been an independent country only seven years and was half-heartedly attempting to shed decades of Soviet rule. It was an Armenia I had romanticized from afar, and my adolescent eyes were awed by the ancient temples and monasteries.
During subsequent trips, the veil lifted. Like any new democracy, Armenia has seen its share of growing pains as the republic learns how to govern and the people learn how to be heard.
Yerevan, the country's capital and largest city, with a population of 1 million, predates Rome. A walkable city with a small-town feel, Yerevan is easy to get around by foot, cab, bus, and subway.
Like many cities, it is one of contrasts. Older gentlemen in white button-down shirts reminisce about yesteryear as they smoke Ararat cigarettes and smack dice across mother-of-pearl backgammon boards while teenage sons of oligarchs zoom past in extravagant sports cars. Some cheer the construction boom and Western-style restaurants and nightlife; others jeer. Many embrace an independent Armenia; others are wistful for what they describe as a better life during Soviet times.
It's not within Armenia's borders anymore (it's in Turkey), but Mount Ararat remains in our books, in framed paintings in our living rooms, and in the backdrops of our Armenian school auditoriums.
The view of Mount Ararat can seem commonplace to locals, similar to how New Yorkers don't give a second glance to the Empire State Building or Athenians the Acropolis. But the perfect day in Yerevan begins with the perfect sunrise, as coral-pink sunlight grazes the icy peaks and mark the beginning of a new day.  
To get the optimal view, climb the 572 limestone steps of the Cascade, an architectural masterpiece completed in the early 2000s, thanks to Armenian-American benefactor Gerard Cafesjian, whose private art collection is housed on site in the Cafesjian Center for the Arts.
Once atop the Cascade, head to Victory Park, best known for the monumental Mother Armenia statue, a powerful symbol of the country. The figure is cast in bronze with a fierce expression on her face and a sword at the ready. Also worth a look is the museum of the Ministry of Defense in the base of the statue. It has exhibits on the Nagorno-Karabakh War, a 30-year-old conflict with neighboring Azerbaijan.
Mornings are calm in Yerevan, which starts later than most big cities. A brisk 10-minute walk from the Cascade to Northern Avenue takes you to La Boheme, which opens early. Enjoy a cappuccino or a stronger Armenian coffee as the main pedestrian avenue becomes dotted with locals heading to work.
Locals criticized the construction, in the early 2000s, of Northern Avenue, a polished pedestrian street with commercial offices, upscale shopping, restaurants, and luxury apartment buildings because it replaced original dwellings and architecture. Residents now embrace the boulevard as a gathering place lined with street performers.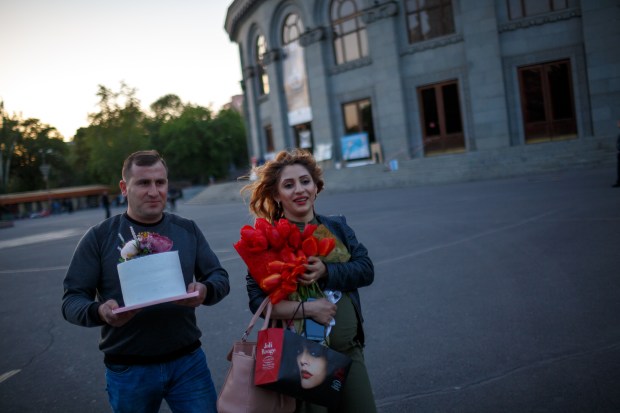 Yerevan drips with the arts and, unlike other major cities, its ballet, opera, and concert performances are affordable and accessible. Steps away from Northern Boulevard is the Opera Theater, one of Armenia's cultural treasures. The semicircular building's medieval-Armenian-inspired architecture is a marvel itself. The Opera is surrounded by Freedom Square, where recent demonstrations against former president and prime minister Serzh Sargsyan took place. When it's not filled with protesters, kids ride bikes and toy cars by day and bands put on concerts by night.  
Vernissage, an easy walk past Republic Square, is a large open-air market. A fun spot to pick up souvenirs and artwork, Vernissage can be an opportunity to sharpen negotiating skills. When I first visited in 1997, vendors sold their goods on the ground, which increased the market's charm. Now there are designated stalls where everything from embroideries and carpets to paintings, musical instruments, and jewelry is sold. On my most recent visit, I picked up a handmade wire necklace and a hand-carved apricot wood duduk (an ancient Armenian woodwind instrument). Talk to the artists and vendors, who speak with joy about their products and creative process.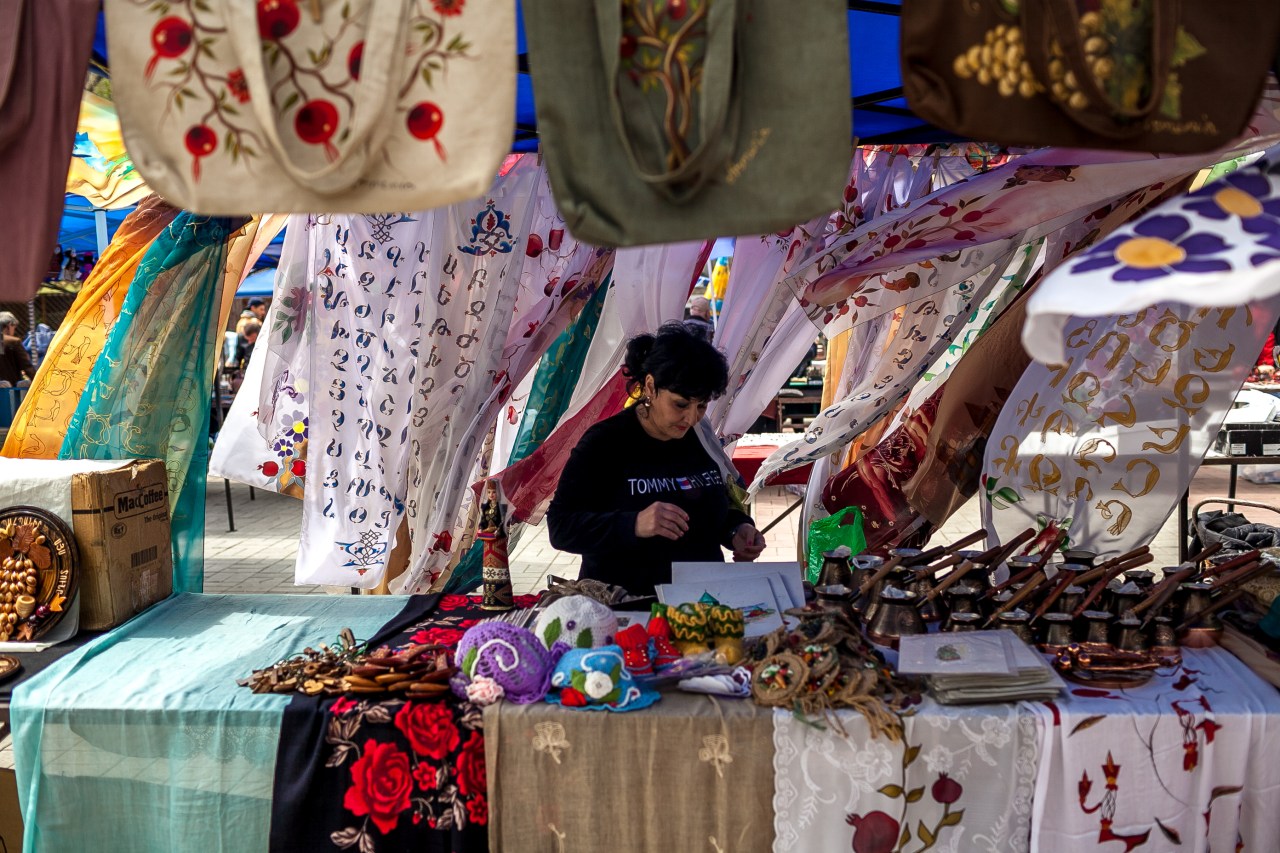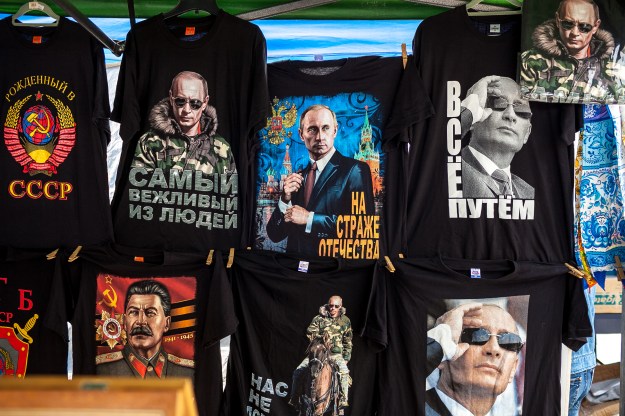 Bibliophiles should head to Artbridge, which opened in 2001. Before or after eating omelets, French toast, crepes, or other items—all prepared Armenian style—customers can peruse books, music, and souvenirs in the adjacent bookstore. Savor the thick chunks of sweet fruit in the house-made strawberry and apricot jams. Plugged into the happenings of Yerevan, Artbridge organizes presentations and exhibits and supports the arts throughout Armenia, including the International Golden Apricot Film Festival, which screens its films next door at the Moscow Cinema in Charles Aznavour Square, named after the beloved French-Armenian singer. The theater was once known for its Soviet-Armenian screenings and now features local and international movies.  
12:00
pm
Sergei Parajanov Museum
Blvds. 15 & 16, Dzoragyugh 1st Street
Get Directions
Born in Soviet Georgia as Sarkis Parajanian, the filmmaker Sergei Parajanov became known worldwide as an influential auteur with his unique, poetic, and layered visual style, most notably in The Color of Pomegranates, based on the poetry of troubadour Sayat Nova. Toward the end of his storied life, Parajanov picked the location for his legacy. The popular Sergei Parajanov Museum is open every day of the year. Housing his childhood furnishings brought from Tbilisi as well as his scripts, drawings, letters, and family photos, the museum has welcomed Paulo Coelho, Atom Egoyan, and Vladimir Putin, among other notable figures, since its founding in 1988.
Armenia's cuisine has been revitalized by Syrian-Armenians seeking refuge in their homeland. While resettling or awaiting visas to other countries, they went to work, often as jewelers or chefs. Many who longed for Middle Eastern culinary touches opened restaurants catering to diasporans and repatriates searching for those flavors. Anteb (named after a once flourishing city now called Gaziantep in Turkey) has perhaps the tastiest manti (baked meat dumplings) outside my mom's kitchen. The plain decor is in contrast to the succulent skewered kebabs and appetizers of muhamara (spicy red pepper paste) and lebne (strained yogurt with garlic).
A 15-minute cab ride from the city center is the Etchmiadzin Cathedral, the site of the world's first state-built church. (It's also where I was baptized at the age of 12, fulfilling the vow of my nationalist father, who wanted his children to be baptized in a free and independent Armenia.) A UNESCO World Heritage Site, it was originally built of wood in 303 CE, then rebuilt in stone in the seventh century. It attracts pilgrims from around the world with its resplendent architecture and mystical aura. While you're on the grounds, see the Alex & Marie Manoogian Treasury House Museum and the newly built Vatche & Tamar Manoukian Library, which provide additional insight into Armenian history and religion, with rare artifacts such as illuminated manuscripts and ancient crosses on display. The remnants of pagan temples beneath Etchmiadzin may be the most fascinating.
An eternal flame glows orange at the center of Tsitsernakaberd at the Armenian Genocide Museum-Institute, built alongside the Hrazdan River. Stretching into the sky is a 40-meter-stela next to 12 stone slabs, each symbolizing an ancient Armenian province destroyed by the Ottoman Empire. The memorial pays homage to the 1.5 million Armenians massacred during the 1915 Armenian genocide.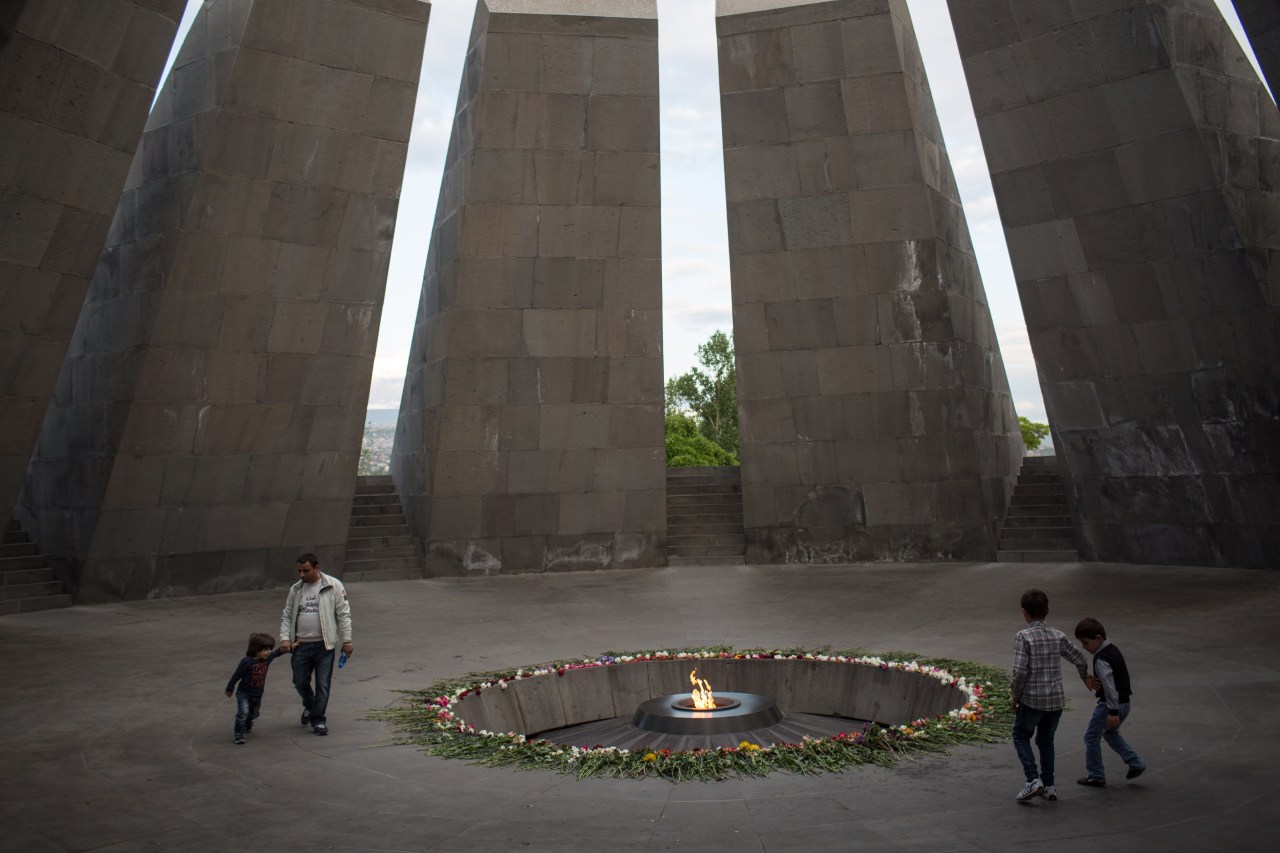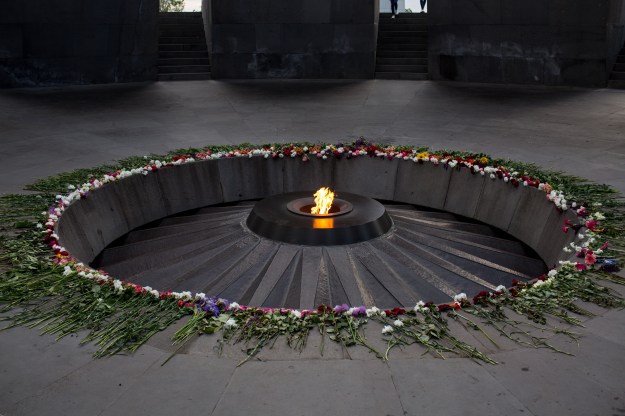 A cab ride back to the city center will take you to Dolmama, one of the first restaurants in post-independence Armenia. As the country struggled with electricity and food shortages, thanks to blockades by neighboring Turkey and Azerbaijan, Dolmama was creative in its quest to keep its doors open, even scavenging around the region for chairs and tables. The restaurant is a well-known spot, serving flavorful native dishes like dolma (ground beef mixed with spices and wrapped in grape leaves), pilaf (rice with raisins, nuts, and other dried fruits), and khashlama (stewed meat). On any given night, dignitaries and celebrities can be dining in what has been referred to as Armenia's national restaurant.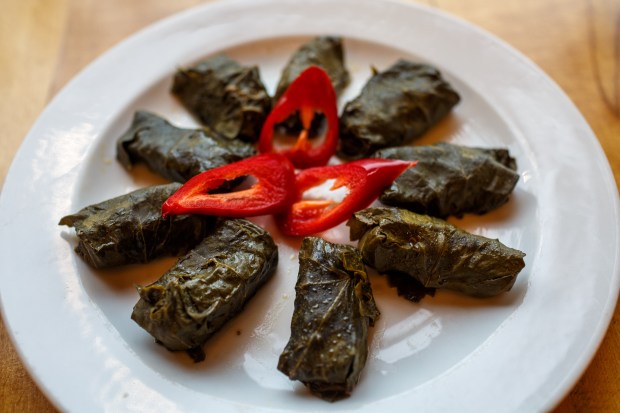 8:00
pm
Swan Lake
Intersection of Teryan and Tumanyan Streets
Get Directions
Made famous as the lake that Kanye West jumped into after an impromptu performance in Armenia three years ago, Swan Lake and its surrounding greenery is a relaxing spot to read, people-watch and enjoy open-air art exhibitions in the summer and ice skating in the winter. Watch the sun set as traditional Armenian music plays from nearby outdoor cafes and swans glide across the water.
Throngs gather on summer nights to experience the dancing light show at the fountain in Republic Square. As the lighthearted music of Frank Sinatra and Charles Aznavour fills the square, couples hold hands, kids eat ice cream treats, and parents hoist their toddlers onto their shoulders. Lasting about an hour, the colorful light show serves as a nice interlude while evening plans are decided with friends.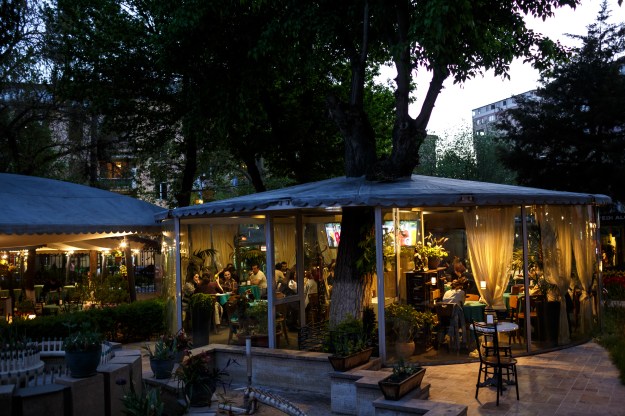 Yerevan's nightlife peaks in summer, when tourists, repatriates, diasporans, and locals spill onto the streets to savor good food, dancing, drinks, and music. Though venues are open surprisingly late (even ones listed as closing at midnight may stay open until 2 or 3 a.m.), it remains a safe, patrolled city where people keep an eye out for one another.
Armenia's winemaking tradition dates back 6,000 years, so it's only right to begin the evening sampling the country's wines at In Vino. The cozy bar offers over 800 imported and local wines and welcomes oenophiles and novices alike.  
For a bit more action, there are plenty of options. Walk over to Paparazzi Club, which has multiple floors, including a rooftop cafe (with hookahs) and a dance lounge open until 4 a.m. At Calumet Ethnic Lounge Bar, guests sit bohemian-style on the floor and listen to local rock bands while sipping Kilikia and Kotayk beers. Downtown Club, known for house music, doubles as a venue for the city's emerging rappers.
At Dos Amigos, owner Vahan Simikyan concocts special cocktails sometimes involving flames, a helmet, or wooden spoons. A former National Ballet of Armenia member, he takes breaks from bartending to dance salsa and kochari (an Armenian folk dance) with his wife and friends on the fluorescent-lit dance floor.
After the last venue closes its doors, there is always one part of Yerevan that remains open. With a wine bottle in hand and a new pack of friends following suit, climb the Cascade's 572 limestone steps once again. Sit beneath the watchful eye of Mother Armenia, the lights of Yerevan below, and wait for the sun's coral hues to once again graze the icy peaks of Mount Ararat.